Phase 6: Stewardship
Congratulations, you now have a brick-and-mortar building on the ground in your tribal community. This process has likely taken years and hundreds of hours of work for you and your staff. Before you step away from the project, there is a lot that goes into an occupied affordable housing development, including managing the property and remaining in compliance with all the terms laid out by investors, lenders, and grant makers.
This last phase and the considerations contained in this section will help ensure that the work is not wasted and that your new housing development is able to effectively serve the needs of its residents and investors. This section includes:
Overview of Property Management Tasks

Lease up
Roles and Responsibilities
Marketing and Tenant Selection
Financial Management
Maintenance

Compliance

Land Use Restriction Agreement
Certifying Household Incomes
Exemptions
Post Year 15 LIHTC Compliance
Noncompliance
Overview of Property Management Tasks
To ensure compliance standards are being met and property operations are providing residents a safe and healthy space to live, there needs to be a property management structure in place. The property management structure will depend heavily on the development model chosen, location, cultural context, resources, capacity and the compliance requirements from funding sources.
In tribal communities, often the TDHE or housing division will also manage affordable housing properties in their portfolio, though this is typically not the case in more urban environments. Often there are no other management groups to outsource to, and tribes understand their community best, but management comes with its own responsibilities and expertise so be sure to set aside staff time and expertise to those tasks.
Key property management responsibilities include:
Security and Safety
Maintenance and repairs
Budgeting and financials
Staffing
Maintaining and utilizing management information systems
Leasing, marketing, tenant selection, and eviction
Compliance with funding sources, including:
Recordkeeping for the waitlist
Recordkeeping for tenants' applications and income qualifications;
Performing and working with third-party inspectors;
Undergoing audits;
Performing tenant-income verification certifications;
Noncompliance and retention provisions;
Adhering to rent increase restrictions; and
Accounting for utility allowances
Coordinating and meeting regularly with service providers (in the case of housing with supportive services such as Permanent Supportive Housing or Assisted Living
Yearly trainings on topics like: Fair Housing, Mental Health First Aid, De-escalation, etc.
Once you reach the project operations stage, be sure to work with program compliance officers, including LIHTC specialists, and any funding entities that were a part of your project's budget (i.e., IHBG Asset Management)
When determining if you would like to handle the roles and responsibilities in-house, you should consider your experience managing similar developments within the community and whether you have the necessary capacity, staff and resources. When determining if you would like to contract out the responsibilities for property management you should see if existing property management services are provided within your community, the tribal community (such as by the TDHE or Housing Authority), and if they have experience with the compliance needed for your funding sources.
If contracting out, clearly define policies and procedures for both parties. It is important that there is a shared understanding around affordability periods, rent levels, and tenant income requirements. Outsourcing property management may not be a viable option in remote rural places, as it may be challenging to find established property management firms with experiences working with your funding sources in your geography.
Responsibilities of a Property Manager
Whether you contract out or have internal staff manage the property, you will need to set clear expectations of the day-to-day tasks and responsibilities of the Property Manager.
The key activities of a Property Manager include:
Collecting rent
Developing and maintaining updated policies and procedures that are compliant with applicable funding sources for affordable housing program requirements
Ensuring property compliance with all applicable regulations
Maintaining tenant files and property records, including following required or recommended file retention periods
Providing preventative and routine maintenance and repairs
Providing appropriate tenant and stakeholder communication and customer service
Coordination with services providers in the case of Permanent Supportive Housing
In addition, property managers should execute all the above functions in a culturally competent manner that factors in tribal culture.
There are a few common services that can be offered to build transparent relationships between tenants and owners and build the capacity for the community to navigate rental terms successfully. Resident-centered management practices to strengthen tenant and owner relationships include:
Resolve tenant issues in a timely manner
Provide strong, quality service while setting appropriate expectations about that service
Provide routine and cost-efficient maintenance to maintain high-quality housing
To build the capacity of the communities to become successful renters include educational and flexible practices such as:
Partner with Tribal housing authorities that offer rental education focused on giving tribal members the necessary skills to become successful renters.
Look at providing flexibility on rent collection payment dates if tenants are relying on fixed income sources. 
The property manager can gain a firm understanding of NAHSADA and IHBG compliance by attending training  and meetings that are offered by HUD, Office of Public & Indian Housing, National American Indian Housing Council, or the tribal housing authorities on topics such as NAHASDA essentials.
Marketing and tenant selection
There will need to be established tenant-selection and eligibility policies and procedures in place. Based on your mission and funding sources, you will set priorities or preferences on applicants that will be eligible or rank higher in preference for your development. Similarly, you will establish ongoing occupancy requirements that follow any local, state, or federal funding regulations. 
Marketing can be tailored specifically for Native community members. Federally recognized tribes are not subject to all of fair housing marketing requirements as they are outlined by USDA and HUD, which gives tribes flexibility to create a marketing and outreach strategy tailored to the cultural context of the tribal community. 
Resident services
A Property Manager can provide resident services to enhance a resident's quality of life. When engaging future residents and local housing stakeholders there is an opportunity to identify services needed for future residents. Services might include:
Childcare
Financial services and education
Health and wellness
Community empowerment and space
Access to transportation
Access to internet
Cultural activities
Proximity to other amenities and services in the broader community
For these services to become a reality, they need to be appropriately planned and budgeted. Selecting a service provider already established within the community offers an advantageous position as they are already established with the community and provide a level of expertise to the service being provided. Once the type of resident service is selected, there needs to be consideration of staffing capacity, space and a general operating costs factor within the operating budget.
Wait list
Maintaining an active waiting list helps to shorten turnover times and can provide valuable data related to future housing needs. You may want to consider collecting information like veteran status, elderly status, meeting federal definitions of disabled, tribal enrollment of household, number of families, income levels, and interest or likelihood of homeownership as part of your waitlist data collection. Some tribes have had to close their waiting list if it is over a certain number of families but think carefully before doing so because there can be benefits in using the waitlist as a tool in planning to meet housing needs. It is best practice to timestamp and date any applications for fairness and transparency.
Financial management
Property management also entails proper financial management, which includes developing an annual budget, maintaining operating and emergency reserves, and maintaining accountability for finances. Asset management includes activities that maintain and enhance a property over its lifetime.
An operating budget is included as part of the pro-forma package and can be used to identify ongoing expenses and assess risk of operating expense shortfalls. An initial operation budget can be made with a budget estimate that will be adjusted as you determine the revenue generation needed to cover expenses. Once the property is operating, the adjustments to the operating budget will need to be monitored based on the development's operating expenses and adjusted when necessary.
Rent collection is one of the key resources to fund operating expenses. An analysis of your pro forma can assist in gauging the impact this revenue source will bring. Management must monitor the rent collection rate on a regular basis and the lease agreement should establish guidelines for the rent collection process. Suggested practices for rent collection include:
Having a flexible grace period prior to charging a late fee can reduce turnover rates and help set realistic expectations with tenants.

Promoting alternative payment options for tenants, including in-person, mail-in, or drop-off

Connect tenants with local housing or financial counseling
In order to sustain the long-term viability of your development, you should have operating and replacement reserves to cover anticipated and unexpected losses over the course of time. Some funders require minimum operating reserves equal to at least six months of projected annual operating expenses and six months of debt service payments. Replacement reserves are established on a per Unit per Annum basis and should be reflected in your operating pro-forma.
Maintenance
As owner, you are responsible for the ongoing maintenance of the property. Maintenance planning can help you to provide residents with responsive, cost-effective, and quality repairs and to preserve the life of your development. The key to carrying out these functions is good planning and organization.
Maintenance programming should include a maintenance staffing plan that is supported by the development budget and based on the development's characteristics. Maintenance staffing should be adequate to cover the routine needs of the property and unanticipated or special projects.
A maintenance work priority system ensures that the most important maintenance work is completed in order of need, considers certain efficiencies, and minimizes vacancy loss, which also helps minimize rental revenue loss. The priority system ensures quality service to tenants and minimizes progressive damage to your development. Check out a complete maintenance checklist here, but priority categories may include:
emergencies that are threats to life, health, and safety of tenants or the development;
urgent items that present a potential threat to the health and safety of tenants if not addressed;
planned and/or preventative maintenance, including daily maintenance of grounds and facilities;
vacant-unit turnover; and
routine maintenance services generated by tenant requests or staff observations.
Establishing a Work Order System
In order to track all the maintenance tasks in your priority categories, you should have a work order system that includes all work request information: description of work, priority category, cost to complete, days to complete, and hours to perform. This information helps plan maintenance tasks and evaluate maintenance performance. To achieve the greatest effectiveness from the work order system, all work requests and activities performed by maintenance staff must be recorded on work orders.
Vacancy Turnaround
Vacant-unit turnaround requires close coordination between property management and maintenance. It begins when a unit is turned over to maintenance from property management upon tenant move-out and ends when the unit is turned back over from maintenance to property management when the unit is complete and ready for the next tenant, also known as make-ready time. Make-ready time should last no longer than 21 days (about 3 weeks).
Inspections
Maintenance should work with property management to develop a plan and schedule for periodic site and unit inspections. Inspections should be conducted in accordance with funder physical inspection standards. It is required to give tenants notice prior to inspecting their units. Schedule for these internal inspections prior to third-party inspections, such as REAC inspections, and consider using their inspection forms as a reference.
Regular Maintenance
A preventative maintenance program includes the regularly scheduled servicing of all equipment and systems. Each system must be identified, have its servicing cycles determined, and then assigned a responsible maintenance staff member to the scheduled inspection and servicing. A ground maintenance schedule should also be established that may include items such as fertilization, mowing, pruning, and mulching. Adapt both maintenance programming and inspections to comply with local and state building codes. A maintenance program can also be used to plan for and respond to natural disasters alongside a business continuity plan.[79]
Compliance
Compliance encompasses how your development is meeting agreed-upon funding-source restrictions and requirements. This means working with both your tenants and funders to provide all of the necessary documentation. While compliance can be tedious at times, it is important to remember that affordable housing receives certain benefits in return for certain obligations to low-income residents: the compliance process is focused on ensuring your obligations are being met.
Overview of compliance

Land Use Restriction Agreement

Certifying Household Incomes
Exemptions
Post Year 15 LIHTC Compliance
Noncompliance
Overview of compliance
The materials in this guide only provide an overview, so Enterprise recommends that the tribe retain the services of an attorney and/or accountant who specializes in the relevant programs and counsel them on any complex problems that may arise. In general, it is wise to survey your Agreement documents, including your Land Use Restriction Agreement, to determine which has the strictest compliance. Use that document as a primary check for whether you're in compliance. Often, if you know you are meeting LIHTC requirements, you are also meeting NAHASDA requirements (for example). Be sure to note any additional considerations not covered by the strictest agreement.
Vacant units typically need to be filled within 30 days. You will need to make sure that the affordable rental units are being filled first and demonstrate that you are marketing just as fairly to low-income households as to market-rate households. Vacant units can usually remain open longer if there is unusual damage, and up to 6 to 12 months if there's been methamphetamine use.
Land Use Restriction Agreement
A Land Use Restrictive Agreement (LURA) is a legal document that documents the land use restrictions in a public record and that runs with the land. Through this document, the restrictions that were agreed upon with a funder when the land was acquired or developed as affordable remain with the land despite change in ownership.
USDA program restrictions are recorded in a Rental Use Covenant (RUC) which operates similarly to a LURA. 
The LURA might be verified and enforced on a regular basis by a funding agency. Items that are often reviewed for compliance include: current year income & rental limits, household application, verification forms, tenant income certification (TIC), lease. 
Certifying Household Incomes
There are several steps you need to take to report on the families living in your property:
Determine number of household members
Ask about temporarily absent family members
Note any permanently confined family members
Identify any live-in aides, and provide verification
Incomes
The household's annual income at the date of move-in must fall within the income limit for that household's AMI designation, number of household members, and county or state. Then, the rent can be determined based on the same factors and number of bedrooms. According to the Hold Harmless rule, once a project is placed in service, if the income limits decrease in the county or state, the project may continue to use the original income limits.
Any low-income units must be rent-restricted, or set at a rate that does not exceed 30 percent of the household's income.
Exemptions
Tribal projects sometimes face pushback in the affordable housing state or regional level, because most affordable housing projects need to follow a "public use rule." This rule generally refers to public housing projects being open to the public, and available for use by any low-income qualifying family, regardless of factors such as race.  Many tribes wish to designate their developments to serve tribal members, or Native American families. Congress clarified this distinction through the 2008 Housing and Economic Recovery Act (HERA), stating that tribal projects are not a violation of the general public use rule. Tribal preference is allowed. 
Under HERA, the rules of NAHASDA should not prevent tribes from competing with other public funding and credits. There are still restrictions on housing, for example if you were to try to set units aside for only employees of one company, tribal preference is allowed, and each tribe can develop its own rules determining how that is assessed.  
Violence Against Women's Act (VAWA) also impacts tax credits and. any housing program receiving federal funds. Through VAWA, tribes ensured that victims who are tribally enrolled are still protected against non-tribally enrolled members. As long as the tribal court initiated and included the right codes, that non-tribal person could be tried in tribal court. You may want to have VAWA documents, forms, and policies for your project. If you are combining NAHASDA with other funding sources, you are required to submit such forms, or HUD ONAP could audit the project.  
NAHASDA adds flexibility towards compliance because you get to set your own priorities, including how many children can live in a unit. Occupancy related decisions are typically set at the state level, but besides income levels, the tribe can set a lot of the other policies under NAHASDA. It does mean that at least one resident in a household has to be tribally enrolled. All NAHASDA rules should be respected by other housing sources that are involved. 
Post 15 Year LIHTC Compliance
It is important to note that compliance on a LIHTC property might change but does not go away once a LIHTC property reaches year 15. There are often longer-term restrictions outlined in the LURA or RUC. 
Noncompliance
When potential or confirmed noncompliance is identified by an auditor or funding agency, the identified issues must be sufficiently corrected and documented by the owner within the agency's required timeframes. Typically, the Compliance Officer or program reviewer will notify the property owner of the non-compliance and specify a correction period. By the end of the correction period, the owner must submit a complete response, and submit supporting documentation to demonstrate that noncompliance has been cured. When a complete response is received, the agency will confirm whether the noncompliance has been resolved and determine if any of the specific findings or deficiencies must be reported to other agencies.
The following may mean you are out of compliance with LIHTC:
If you cannot fill a vacant unit after a certain number of days
Increasing tenant rent outside of lease renewal
Current year income verification is missing
Incomplete household application
Incomplete or out of date  verification forms
Physical condition of the building is in disrepair
Non-compliance with ADA regulations
This is by no means a comprehensive overview of compliance. The HUD Indian Housing's Office of Native American Programs (ONAP) offers training on NAHASDA compliance, as does the The National Affordable Housing Management Association and its regional affiliates offer certification and training in Property Management, Maintenance and Asset management, which covers compliance and are highly recommended for new property managers.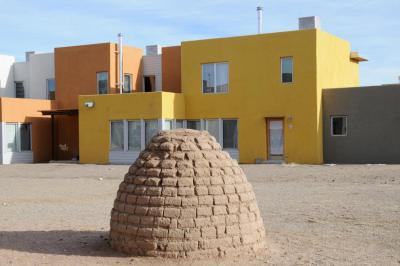 Case Study
Tsigo Bugeh
Ohkay Owinge NM
When Ohkay Owinge Housing Authority (OOHA) was planning their next development, they held community interviews with a wait list of 80 families, seeking input on the design of the project. OOHA heard from elders, whose interviews described growing up on the pueblo, and what life had been like. Today, Tsigo Bugeh is a thriving village. Its homes and community center align on a solar and equinox axis, just as Ohkay Owinge villages have since time immemorial.
The village houses 40 families, the majority making up 40-, 50-, and 60-percent AMI, and some market rental. Tsigo Bugeh site includes a community center, laundry facilities, and offices for the housing department. To get there, OOHA needed additional education and tribal council approval at every step of the way. Many of the models of financing and constructing were new to the developers, tribe, and community so it was important to learn about tax credit financing and share the benefits and ways that it was possible.
Tsigo Bugeh is built as a model of attached housing, where one and two-story units are close together. This was different than the economic single-family homes HUD brought to the pueblo during the latter half of the 20th century, and although attached housing closely resembled the traditional adobe-homes way of life, it was a design and financing approach that stakeholders needed to get used to.
The financing model is key, and most of the project was tax credits. They were successfully awarded $2.3 million in LIHTC. However, they still had to fill the gap using the Affordable Housing Program (AHP) through the Federal Home Loan Bank, Rural Housing and Economic Development (RHED), and NAHASDA funds (Indian Housing Block Grant). Additionally, HOME funds for the Tsigo Bugeh project were the first in the state of New Mexico on tribal lands and a $169,000 RISK share loan was also new to Ohkay Owinge staff. 
OOHA states that they were lucky to be able to get all the competitive grants—the project would not have been possible without every funding source. Yet with more financing stacking comes more responsibilities and requirements—Ohkay Owinge had to develop the property in one year, and at the same time prepare qualified families to move in.
Those requirements led to a valuable lesson: although staff worked all summer towards educating and qualifying families, they ended up losing out on some tax credits because they were two units short of meeting the deadline for moving families in. However, the project also had some unforeseen benefits, as OOHA had more information about infrastructure needs in their community and were able to start addressing them more effectively after the success of this development. In the end, not only did tax credits succeed in building multifamily housing on reservation land, but there are 40 families with a home and community because of Tsigo Bogeh.